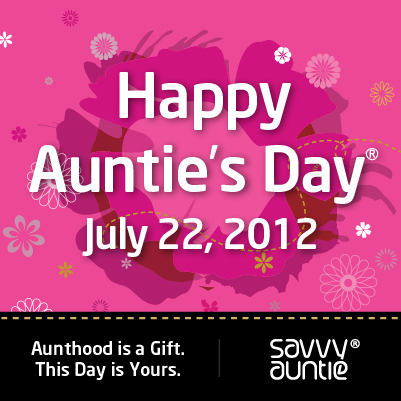 The fourth annual Auntie's Day, celebrating aunts and godmothers everywhere, is this Sunday, July 22
Like the tradition of Mother's Day, Father's Day and Grandparent's Day, Auntie's Day honors and celebrates the women in the American Family Village who love and give to children not-their-own. On Sunday, give the Auntie in your child's life a call, send her a card, or acknowledge her in whatever way you can to say, "Thank you."
The annual holiday was started by Melanie Notkin, founder of SavvyAuntie.com and author of national bestseller, Savvy Auntie: The Ultimate Guide for Cool Aunts, Great-Aunts, Godmothers, and All Women Who Love Kids, as a day to recognize those special aunts in your life.
According to Notkin, aunts by relation or choice give of their discretionary income and time to children-not-their-own in their immediate lives, in their communities and around the world every single day. Every boo-boo they kiss, every little hand they hold, every hug they give is a gift.
And as far as the other kinds of gifts – the kind tied up with a bow – are concerned, an Auntie will often stretch her budget to put a smile on the face of a niece or nephew on birthdays or the holidays. She's also more likely to jump on a plane for Thanksgiving than expect a family of four to travel to her.
Aunts not only give directly; when a co-worker mom leaves work early to tend to a sick child, or when that big assignment is due and working late or over the weekend is necessary, a childless woman is (often expected to be) the one to pick up the extra work so moms can have family time. These are just some of the ways aunts give of themselves selflessly.
Watch Melanie Notkin talk with genConnect about how new media helped turn her passion into a business:


Notkin launched her website in 2008, but as she points out, she starting using social networking sites like Facebook and Twitter one year before the actual launch to help her "create a buzz and audience." She did such a great job building a community of PANKs – an acronym for Professional Aunt No Kids - that on the day she launched her website, "Savvy Auntie" was the most tweeted word.
Over the years, Notkin has built a brand and a business, celebrating those "who don't have any children, but love the children in their lives." And she believes that you can do the same, too! Watch Notkin offer tips for others on how to create a passionate business people will care about:
Share: How are you celebrating your aunt or godmother on Auntie's Day? Tell us in the comment box below!
Category: Family, Relationships, Videos, Views on the News